<!-- (c) 2005, 2010. Authorize.Net is a registered trademark of CyberSource Corporation --> <div class="AuthorizeNetSeal"> <script type="text/javascript" language="javascript">var ANS_customer_id="7ea7543b-fe8e-4a7f-9d22-54ad63bc3df9";</script> <script type="text/javascript" language="javascript" src="//verify.authorize.net/anetseal/seal.js" ></script> <a href="http://www.authorize.net/" id="AuthorizeNetText" target="_blank">Payment Gateway</a> </div>
Leaning Tree Lodge
Leaning Tree Lodge
Located in Ft. Smith, the Leaning Tree Lodge is a clean, comfortable, and reasonably priced option for lodging. Owned and operated by Mark and Rachel Stroda, the lodge is conveniently located close to the Bighorn River, and provides the quality meals included in the package price.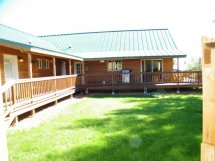 Relax on the deck after a great day of fishing!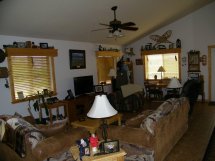 Satellite TV is available in the common area where fishing stories are told, and retold.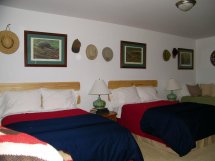 Here's a look at the bedrooms for your well deserved rest.
When driving into Ft. Smith, take the first right hand turn. The Leaning Tree Lodge will be the second establishment on your left. Please park around back.